The BATS 2017 Autumn production was Tom Jones, by Joan McAlpine, and based on the novel by Henry Fielding. It's was fun, fast and furious. Directed by Heather Cooper.
This is the tale of a handsome young reprobate who falls victim to the charms of one woman after another, becoming at one point entangled with three at once! Jenny Waters, a lady of warm heart and generous virtue, Mrs Fitzpatrick, a society lady seeking diversion from her oafish husband, and Sophia Western, whom Tom truly loves. The large cast enjoyed this fun play with fantastic character parts. There were laughs and bawdy lines, but not smutty comments. With its sword fights and dances, noise and colour, this was an entertainment for all the family.
The audience across all of the five nights were loving the cast's fantastic performances. There was jubilant applause and many personal congratulations for the deserving BATS teams.
Reviews by members of the audience.
Great play last night with imaginative use made of the hall's tiny stage, by a large cast. We bought visitor's who enjoyed the evening and thought it was a very professional production. Congratulations to all involved. Ken
A terrific play that must have been testing and demanding on the large cast. I thoroughly enjoyed the evening and felt the quality of the casts performance was very good. It was really interesting to see how the small stage was used for all the different scenes. The costumes looked remarkable. I look forward to seeing another show.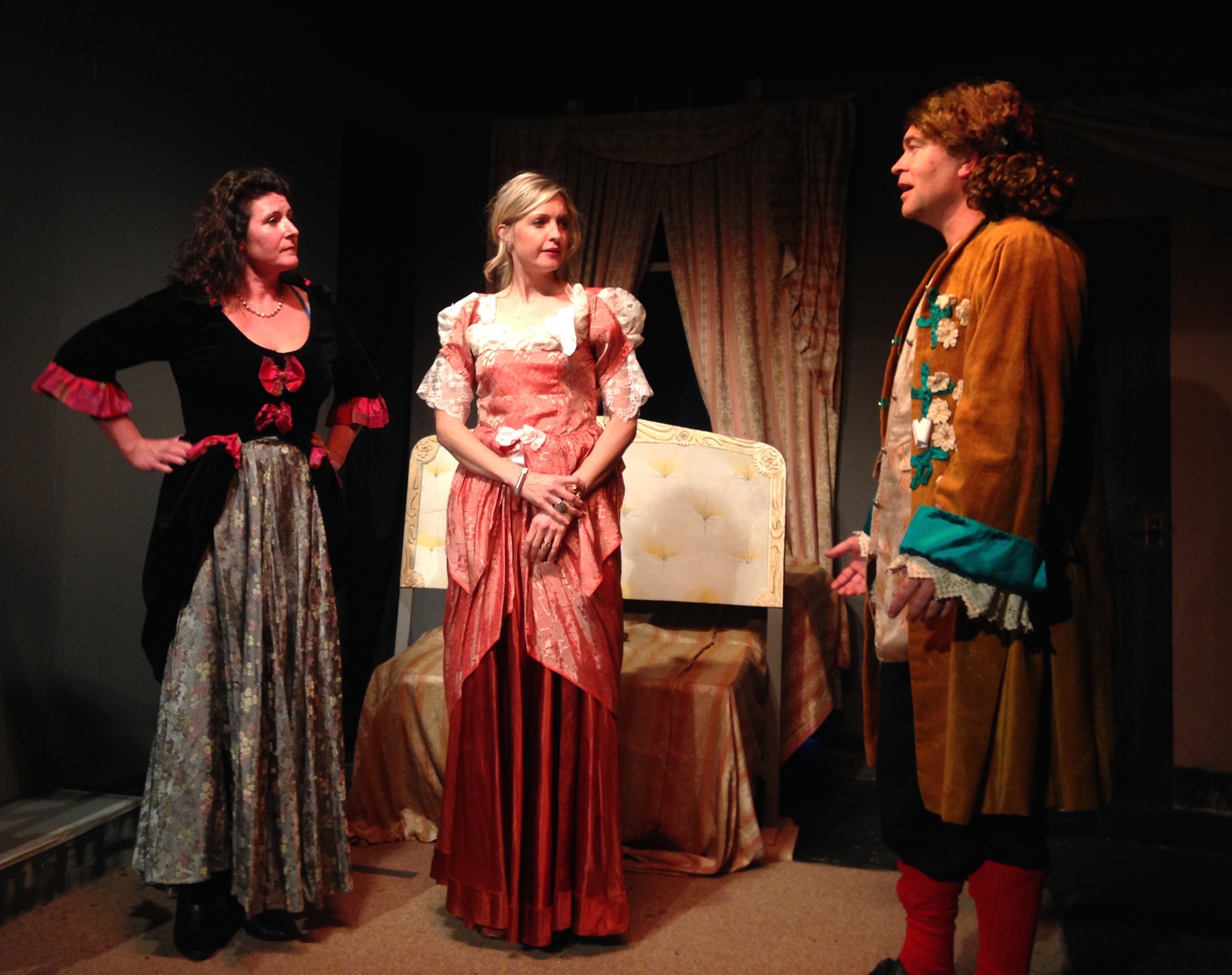 Directed by Heather Cooper, the BATS team have been pontificating, planning and preparing. The design and lighting teams have started to building the set and have been installing new sound and lighting cables. The costume department are designing clothing for the cast. Actors have been learning their lines over the Summer period and the rehearsals have now started for this colourful and romantic production. Thank you once again to all our volunteers and cast for their continued support and hard work.
Cast in order of appearance.
Tom Jones – Jaimes Cooper
Squire Allworthy – Barry Cooper
Bridgette Allworthy – Karen Penny
Bridgette's maid Jenny – Sarah Gallagher
Bilfil – Roger Bell
Twackhum – Tony Currell
Sophia Western – Sarah Govier
Squire Western – Stuart Hiorns
Molly Seagrim – Sam Fox
Doctor – Keith Gywnne
Innkeeper Susan – Julie Greenwood
Mrs Waters – Wendy Thomas
Mrs Fitzpatrick – Deborah Morris
Mrs F's Maid Betty Andrews – Doreen Davies
Captian Fitzpatrick – Laurence Evans
Lord Fellamar – Marcus Brace
Constable – Steve Nelson
1st Bystander – Tony Currell
2nd Bystander – Keith Gwynn
Priest – Keith Gwynn
Executioner – David Spear
Crowd – Cast.