The BATS 2019 Autumn production was 'Dad's Army', written by Jim Perry and David Croft. Keith Gwynn directed this classic wartime production.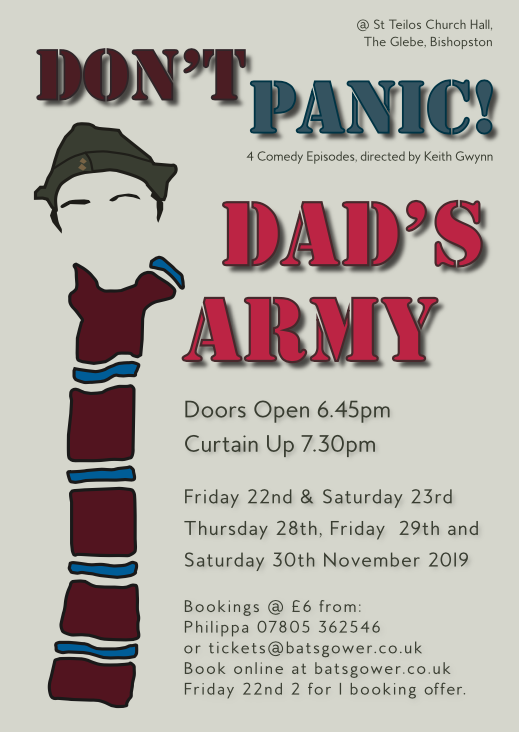 Cast members were :-
Captain Mainwaring – Roger Bell
Sergeant Wilson – Stewart Hiorns
L/Corp Jones – Steve Richardson
Private Frazer – Laurence Evans
Private Godfrey – Tony Reynolds
Private Walker – Barry Cooper
Private Pike – Ian Evans
Private Hancock – Neil Chamberlain
Private Sponge – Mark Faulkner
Private Cheeseman – Tim Shackson
Colonel – Malcolm Poole
"U" Boat Commander – Marcus Brace
Chief Warden Hodges – David Spear
Verger – Malcolm Poole
Yateman (Verger) – Tony Currell
Gordon – Marcus Brace
Waitress – Doreen Davies
Mrs Prosser – Sarah Goodall
Mrs Fox – Julie Greenwood
Mrs Gray – Wendy Thomas
Ivy Samways – Sian Cole
Edith Parish – Sarah Govier
Mrs Pike – Heather Cooper
Miss Ironside – Franziska Muller
Girl – Helen Gwilliam
Mrs Hart – Doreen Davies
Production Blog
Keith Gwynn – Director
We are currently preparing for our Autumn/Winter production the challenging, but still very funny, "Dad's Army". As always early rehearsals have been a 'little' chaotic, but if enthusiasm can be converted to order it should be alright on the night. As you would expect the show comes to the stage complete with all the well-loved characters: "stupid boy" Pike, "Don't panic, don't panic" Jonesey, "Doomed, we're all doomed!" Fraser, "May I be excused, sir?". Godfrey, and all, are under the command of the redoubtable Captain Mainwaring and his effacing deputy Sergeant Wilson. It's a large and talented cast from veterans to new recruits making their debut on stage. So, I have my hands full ensuing we get everything ready for a memorable show for our local community to enjoy. Remember to reserve your seats, we expecting a full house.
Roger Bell
When our Director Keith asked me if I'd like to play the part of Captain Mainwaring, I was thrilled to bits! Such a well-known, fondly-remembered character….I can recall growing up in the Seventies and my parents and I gathering round the television set in eager anticipation of enjoying the next instalment of the goings-on in Walmington On Sea – and episodes are regularly shown today. Playing such a popular character comes with its challenges…many audience members will have a vivid mind's eye image of Captain Mainwaring….will I look and sound like the self-important, straight-laced Captain portrayed by Arthur Lowe? I think it's a challenge for all of us playing such famous characters – but great fun, too!! I hope you thoroughly enjoy our performance of Dad's Army.
Dave Spear
It's a privilege to have been asked to play a character in such an iconic television series as Dads Army. Of course we are performing the play based on the series. The cast have been watching the series repeated on television to attempt to get into the characters and their relationships with each other. One of the problems with a small stage is that in this play there are often a large number of people on set. The director has had his work cut out to position the cast to allow them to act and move without getting in each others way. In some rehearsals it has not been easy to concentrate as the lines and characters are so funny. I am sure the audience will enjoy the production and I wish everyone involved a successful and entertaining evening.
Marcus Brace
I have a message from Cilla Dunn (Clive Dunn's widow) in advance of the shows! 'Good luck BATS, have a wonderful show, get all the laughs, but most of all Don't Panic! Cilla Dunn.