Voices Beneath the Waves has been written by one of our own members, Sarah Goodall, and can now be played, or downloaded. The production is based on the true story of the shipwreck of The Caesar in a cleft in the rocks at Pwll Du Head in 1760. 
We hope you'll enjoy this alternative BATS performance. Click on the play button below. To download the file click here and then right click and save the file.
We are also grateful to Oystermouth Radio for broadcasting this audio play on their community radio station. Please do leave us some feedback by emailing us on batsinfo@batsgower.co.uk or contact us on our Facebook page or tweet us on Twitter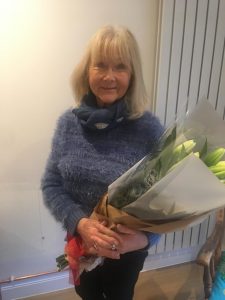 A hugh congratulations to Sarah Goodall, who is responsible for writing and directing the audio play. The success of the production began with her inspiration and hard work for this historical project which has now been brought to life.
Reviews
Just to say how much we enjoyed this performance, we were totally unaware this had happened, and it made a refreshing change to listen rather than stare at the box! Thank you BATS.
It was so good to hear familiar voices. A great production covering a local event. They will not be forgotten. Wishing you all every success in your next endeavour. We've missed you. Kind regards Jan. 
I've just listened to Beneath the Waves. What an amazing piece of work! I couldn't put it down. Congratulations on a worthy production in memory of this tragic event. Thanks, Mary.
Thoroughly enjoyed Voices beneath the Waves which incidentally made me aware for the first time of this tragic wreck and the aftermath. It would be good if some tangible memorial could be created to commemorate this loss and inform locals and others about a significant event in the history of Gower and the Bristol Channel , not to mention naval history!
Very well done to the BATS team, Mike & I really enjoyed the production, it seemed very professional. The accents, the background noises and the sound effects were very good. We look forward to your next live production in 2021.
Excellent..great production…really enjoyed the sound effects……I will circulate to our book club here in Essex. Mel. 
BATS production terrific. Really enjoyed. Anne. 
Thank you so much for all your efforts. Alan and Suzanne. 
Listened last night. Verry good and interesting. Well done. Jen.