The November 2016 production was 'Season's Greetings', by Alan Ayckbourn. Directed by Sam Fox and Wendy Thomas.
The play was a black, though often farcical, comedy about the quarrels, forced merriment, and calamities of a dysfunctional Christmas family reunion. Set over Christmas Eve, Christmas Day and Boxing Day, half a dozen friends and relatives were celebrating Christmas with Neville and Belinda. 
The cast and crew had a fantastic time preparing and performing this production at St. Teilo's Church Hall, The Glebe, Bishopston on Friday 18th, Saturday 19th, Thursday 24th, Friday 25th and Saturday 26th November 2016.
Cast
Belinda – Sian Cole
Neville – Tony Currell
Rachel – Heather Cooper
Harvey – Barry Cooper
Pattie – Helen Gwilliam
Eddie – Steve Nelson
Bernard – Roger Bell
Phyllis – Doreen Davies
Clive – Steve Richardson
Saturday nights review
Our extremely popular food night took on a festive twist this time.  A cold, drizzly, November night was soon forgotten as a sold out audience entered the warmth of St Teilos church hall last night.  A buffet supplied by local family caterers "Dillys" offered a choice of tasty, festive nibbles accompanied by a warm mince pie in the interval.
Laughs were a plenty as a cast of well loved and experienced BATS actors staged a comedy with some poignant moments, about the joys of family members getting together over Christmas.  Each character had been well written and the actors were evidently enjoying the chance to play quite varied roles.  The array of props, 80's costumes combined with some challenging lighting and sound can't have made rehearsing the play easy, however the results are fantastic and produce a play not to be missed.  Catch it before the end of the run next week.
Some of our great team behind the scenes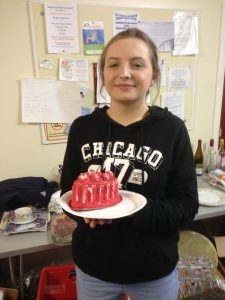 For more information on how the production went click here.
The Spring 2017 production will be 'Death by Fatal Murder' by Peter Gordon. Directed by Stewart Hiorns, the play takes place in the sitting room of Bagshot House in 1940. The country manor doesn't have happy memories for Pratt who in the two previous plays bungled his way through as the body count kept mounting. Pratt goes searching for a missing policeman but murder is never far away.
You might die laughing if you see this production!
Spring dates for this production are Friday 31st March, Saturday 1st April, Thursday 6th April, Friday 7th April and Saturday 8th April 2017.
— — — — — — — — — — — —
**NEW MEMBERS always welcome – come and act, assist back stage or with lighting, sound and costumes – Get in touch! **
The Bishopston Amateur Theatrical Society, or BATS, is an all-amateur group, open to anyone to join, whether to act, direct, work backstage or front-of-house.
There is a committee which presently consists of six people: the Chair, Vice-Chair, Treasurer, Secretary (who is also responsible for marketing), Social Secretary and Stage Manager. The Committee has overall responsibility for agreeing policies and parameters. The director has operational responsibility for delivering a play, and as such is responsible for choosing the play, cast, producer, stage manager, backstage team and front of house team.
Ever since its formation in 1967, BATS (STADS till 1999) has been providing the Gower village of Bishopston and the surrounding area with regular live theatrical entertainment.
This site has two aims:
To provide a record, free and accessible to all, of a major aspect of Bishopston and south Gower's recent cultural history;
To inspire local people to get involved with the group: we're always looking for new actors and people to help with costumes, make-up, props, ticket sales, refreshments, ideas and so on — no experience necessary! In fact, our continuing success depends on you — so have a good look round the site and then please

get in touch.