The next BATS Autumn production is '

The Lady in the Van',

written by Alan Bennett and will be directed by Ms. Sean Cole.
---
Our March 2018 production was 'Are you being Served' by Jeremy Lloyd and David Croft and directed by Ian Evans.
Plenty of laughs from the audience and the cast took place during this hilarious stage version. The BATS cast were the motley crew of the Grace Brothers department store. The store are preparing for a sale of German goods and then they decide to depart for a staff holiday in Spain. Their holiday encounters involved everything from a Spanish crumpet, to randy revolutionaries with everything intact, but their modesty. Lovers of innuendo and British humour really enjoyed this hilarious play, with non-stop double entendres.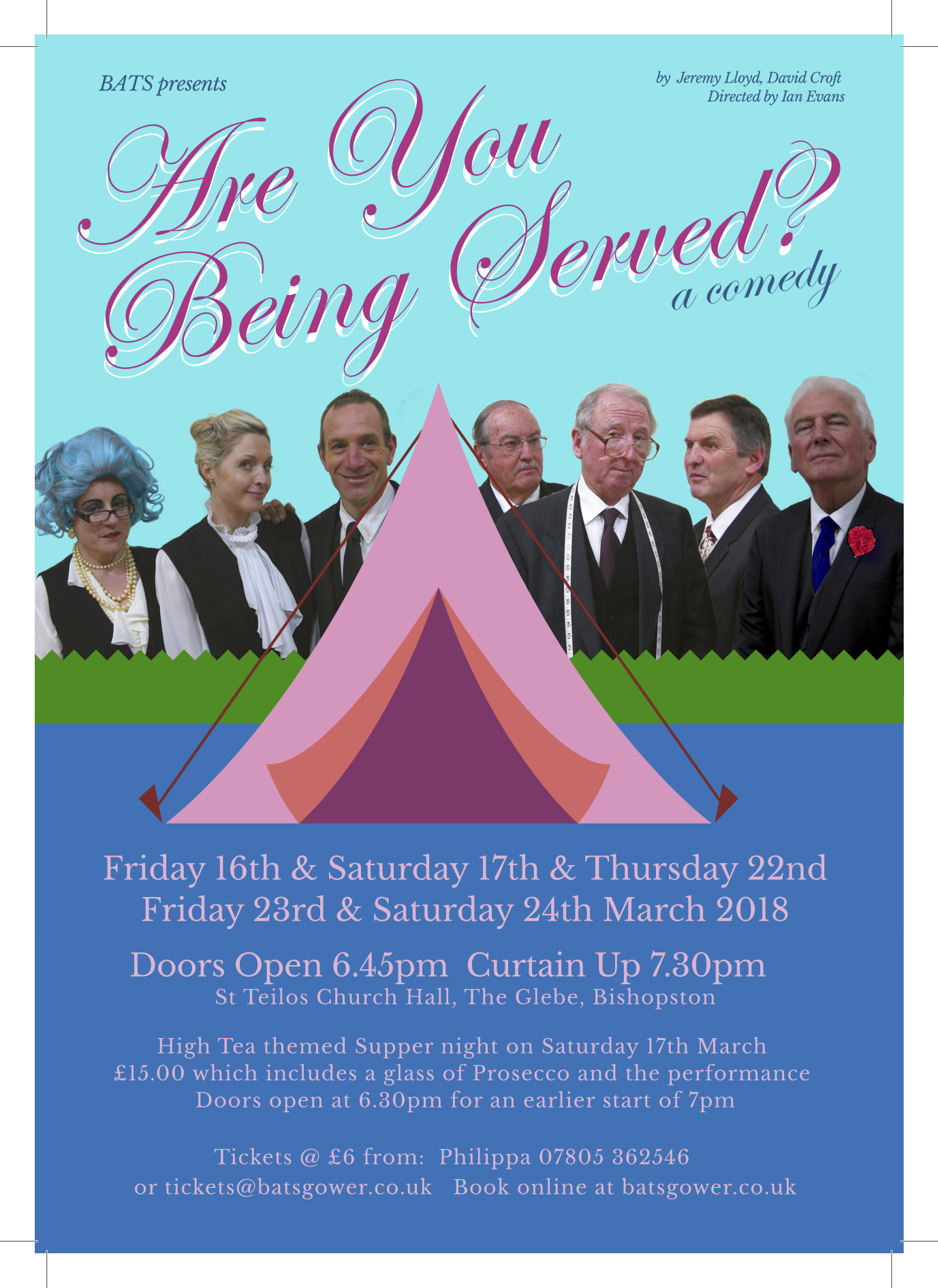 Reviews
A quick congratulatory message following another triumphant BATS production with all the ingredients of an epic trouser-dropping, knicker-showing, bedroom swapping Whitehall theatre farce. Further credit, it was served from a stage the size of a large kitchen table. The
true spirit theatre is alive & well, credit to all your team.
The performance on Thursday was absolutely brilliant and haven't laughed so much in a long time!

This is just to let you know that we thoroughly enjoyed this play.  We were appreciative of all the hard work that had gone into this production.  Well done to you all. Looking forward to the next one.
---

BATS provides assistance to a Derbyshire amateur production.
Last week the Hope Amateur Dramatic Independent Theatre (HADIT) presented a production of "Noises Off" by Michael Frayn. Some of you may be wondering about Hope's connection with BATS? A look at the following report in The Derbyshire Times will give the answer. Go to http://www.derbyshiretimes.co.uk/whats-on/theatre-and-comedy/review-feel-the-farce-in-noises-off-1-8517935
David and Carolyn Gawres had contacted BATS earlier this year to see if we could advice them on how to stage a play requiring numerous doors, a window, a balcony and staircase in a small village hall. And the set has to be turned 180º between Acts 1 and 2, and again between Acts 2 and 3! Barry gave them advice based our BATS production in 2006 and I helped by sending David the design of the set  and details of how we turned the set. Some of you may recognise the set shown in the image in the review.
I was very interested to see how HADIT got on so I went up to see their first night last Wednesday. HADIT are a similar sized group to BATS in a similar hall and I was made to feel very welcome. In the programme BATS were thanked "for their generous advice on producing the play on a small stage." Of course you may be thinking did HADIT give a better performance than BATS? All I can say is they gave an energetic performance which had the audience rocking with laughter and the curtain call was greeted with cheers and applause.
I have been in touch with David since my visit and he tells me another local group who saw their production were impressed and have contacted him as they want to talk to him about how he did the set!  Alan Bailey.
---
**NEW MEMBERS always welcome – come and act, assist back stage or with lighting, sound and costumes – Get in touch! **
The Bishopston Amateur Theatrical Society, or BATS, is an all-amateur group, open to anyone to join, whether to act, direct, work backstage or front-of-house.
There is a committee which presently consists of six people: the Chair, Vice-Chair, Treasurer, Secretary (who is also responsible for marketing), Social Secretary and Stage Manager. The Committee has overall responsibility for agreeing policies and parameters. The director has operational responsibility for delivering a play, and as such is responsible for choosing the play, cast, producer, stage manager, backstage team and front of house team.
Ever since its formation in 1967, BATS (STADS till 1999) has been providing the Gower village of Bishopston and the surrounding area with regular live theatrical entertainment.
This site has two aims:
To provide a record, free and accessible to all, of a major aspect of Bishopston and south Gower's recent cultural history;
To inspire local people to get involved with the group: we're always looking for new actors and people to help with costumes, make-up, props, ticket sales, refreshments, ideas and so on — no experience necessary! In fact, our continuing success depends on you — so have a good look round the site and then please

get in touch.