The BATS Autumn production is
'Dad's Army'

, written by Jim Perry and David Croft.
Keith Gwynn is directing this classic wartime production. You have seen it on TV, now come and see the BATS performance. The Home Guard will be coming to the Church Hall, The Glebe, Bishopston, Swansea SA3 3JP on Friday 22nd, Saturday 23rd, Thursday 28th, Friday 29th and Saturday 30th November 2019. Curtain rises at 7.30pm (doors open at 6.45pm).  Refreshments including tea, coffee, red and white wine, squash and biscuits will be sold during the interval.
All performance dates are now sold out.
Cast members are :-
Captain Mainwaring – Roger Bell
Sergeant Wilson – Stewart Hiorns
L/Corp Jones – Steve Richardson
Private Frazer – Laurence Evans
Private Godfrey – Tony Reynolds
Private Walker – Barry Cooper
Private Pike – Ian Evans
Private Hancock – Neil Chamberlain
Private Sponge – Mark Faulkner
Private Cheeseman – Tim Shackson
Colonel – Malcolm Poole
"U" Boat Commander – Marcus Brace
Chief Warden Hodges – David Spear
Verger – Malcolm Poole
Yateman (Verger) – Tony Currell
Gordon – Marcus Brace
Waitress – Doreen Davies
Mrs Prosser – Sarah Goodall
Mrs Fox – Julie Greenwood
Mrs Gray – Wendy Thomas
Ivy Samways – Sian Cole
Edith Parish – Sarah Govier
Mrs Pike – Heather Cooper
Miss Ironside – Franziska Muller
Girl – Helen Gwilliam
Mrs Hart – Doreen Davies
Audience Reviews
'Well BATS are no strangers to taking on a challenge. But this maybe their biggest yet! Not only taking on a well-known and much-loved TV series, but to do such a play on the miniature stage and such a large cast…well what can I say! The audience stirred with anticipation as the lights went down for our very own blackout and we were transported back to the comedic TV series. So well done. Extremely funny, especially the quick witty improvisation. You did it again BATS…well done.'   Sam Fox
'Very good. Well done to all involved. Face hurts from smiling so much'  Huw
'Message to the cast and crew, in true Jones style "Don't Panic!" you're putting on a wonderful comedy for the Bishopston Community. Enjoyed the show and great laughs when a couple of the cast improvised their lines.' James.
Production Blog
Keith Gwynn – Director
We are currently preparing for our Autumn/Winter production the challenging, but still very funny, "Dad's Army". As always early rehearsals have been a 'little' chaotic, but if enthusiasm can be converted to order it should be alright on the night. As you would expect the show comes to the stage complete with all the well-loved characters: "stupid boy" Pike, "Don't panic, don't panic" Jonesey, "Doomed, we're all doomed!" Fraser, "May I be excused, sir?". Godfrey, and all, are under the command of the redoubtable Captain Mainwaring and his effacing deputy Sergeant Wilson. It's a large and talented cast from veterans to new recruits making their debut on stage. So, I have my hands full ensuing we get everything ready for a memorable show for our local community to enjoy. Remember to reserve your seats, we expecting a full house.
Roger Bell
When our Director Keith asked me if I'd like to play the part of Captain Mainwaring, I was thrilled to bits! Such a well-known, fondly-remembered character….I can recall growing up in the Seventies and my parents and I gathering round the television set in eager anticipation of enjoying the next instalment of the goings-on in Walmington On Sea – and episodes are regularly shown today.  Playing such a popular character comes with its challenges…many audience members will have a vivid mind's eye image of Captain Mainwaring….will I look and sound like the self-important, straight-laced Captain portrayed by Arthur Lowe?  I think it's a challenge for all of us playing such famous characters – but great fun, too!! I hope you thoroughly enjoy our performance of Dad's Army.
Dave Spear
It's a privilege to have been asked to play a character in such an iconic television series as Dads Army. Of course we are performing the play based on the series. The cast have been watching the series repeated on television to attempt to get into the characters and their relationships with each other. One of the problems with a small stage is that in this play there are often a large number of people on set. The director has had his work cut out to position the cast to allow them to act and move without getting in each others way. In some rehearsals it has not been easy to concentrate as the lines and characters are so funny. I am sure the audience will enjoy the production and I wish everyone involved a successful and entertaining evening.
Marcus Brace
I have a message from Cilla Dunn (Clive Dunn's widow) in advance of the shows! 'Good luck BATS, have a wonderful show, get all the laughs, but most of all Don't Panic! Cilla Dunn.
Photographs from rehearsals
More information to follow very soon.
---
---
The BATS Spring production was

'Absurd Person Singular'

a comedy by Alan Ayckbourn and directed by David Spear. The five evening performances were a great success. The hard work of all members of the BATS team; actors, props departments, make-up, lighting, marketing team and the front of house team made every night an entertaining evening. Lots of laughter from a very appreciative audience and many remarks on the tremendous performance of the talented cast.
The play is set on the Christmas Eve of three successive years and focuses on the relationships between each couple. "Running like a dark thread through the wild comedy of behind the scenes disasters at Christmas parties is the story of the advance of the Hopcrofts to material prosperity and the decline of the others. In the final stages the little man is well and truly on top with the others, Literally dancing to his tune."
Cast members :-
Sidney Hopcroft played by Steve Richardson
Jane Hopcroft played by Sian Cole
Ronald Brewster-Wright played by Marcus Brace
Marion  Brewster-Wright played by Sam Fox
Geoffrey Jackson played by Roger Bell
Eva Jackson played by Wendy Thomas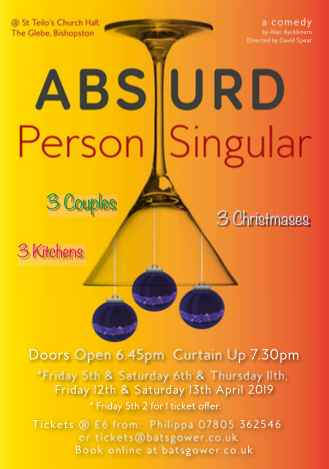 Just a reminder, if you're looking to join a local theatre group, BATS are always looking for new, enthusiastic members and back-stage crew. Please do contact us.
---
The BATS Autumn production was '

The Lady in the Van',

written by Alan Bennett and directed by Sian Cole.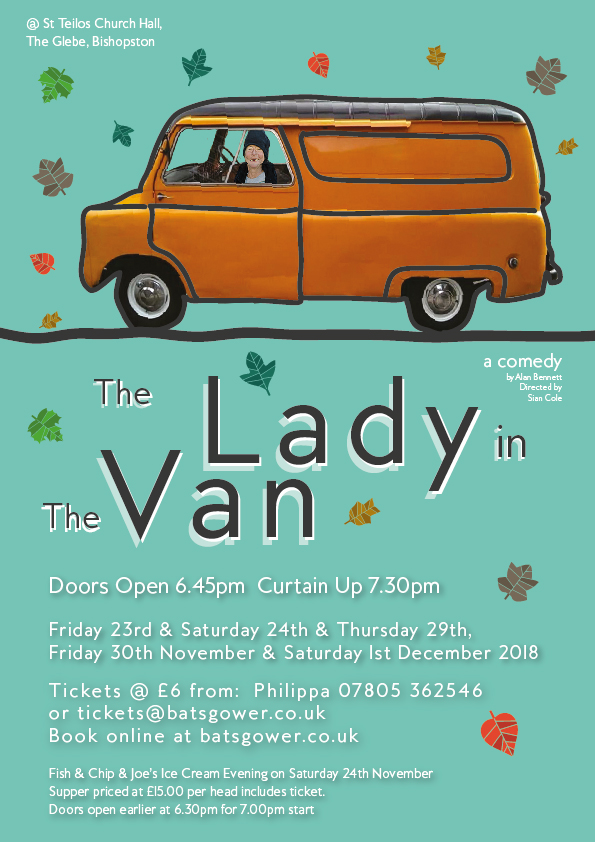 Cast members :-
Miss Shepherd – Julie Greenwood
Alan Bennett – Steve Richardson
Alan Bennett 2 – Roger Bell
Mam – Wendy Thomas
Rufus – Barry Cooper
Pauline – Heather Cooper
Social Worker – Helen Gwilliam
Underwood – Stewart Hiorns
Leo Fairchild and Mam's Doctor – Dave Spear
Lout and Miss Shepherd's Doctor – Laurence Evans
Interviewer and Ambulance driver – Karen Penny
Sian Cole's Directors Blog
The rehearsals are going really well and the whole cast are just brilliant! There have been frantic back stage preparations for lighting, sound, props and costumes, and, as always, everyone has worked hard to make this another extraordinary production.The two Alans' in their matching costumes are just mesmerizing; Miss Shepherd in her old, soiled cloths provides an amazing surly performance; with the rest of the cast adding their own distinctive character to make this a memorable show.
First Night Success
For the director, actors, technicians and the support staff, the first night of any show can produce some nervous moments…will I remember my lines, when do I come on stage, I must remember my stage props, etc. However, the first night of this production was just amazing. The two Alans and Miss Shepard delivered brilliant performances. I did notice that several members of the audience provided a standing ovation at the end. Congratulations to everyone at BATS for a wonderful show.
Audience Reviews
'A polished and professional production '
'Amazing staging and acting especially on such a small stage'
'Great performances from all the cast'
'A wonderful rapport between Alan Bennett and Miss Shepherd, both tender and full of humour'
'Miss Shepherd was mesmerising'
'How did you get the real Alan Bennett to agree to do this?!'
'Your lady rivals Dame Maggie Smith!'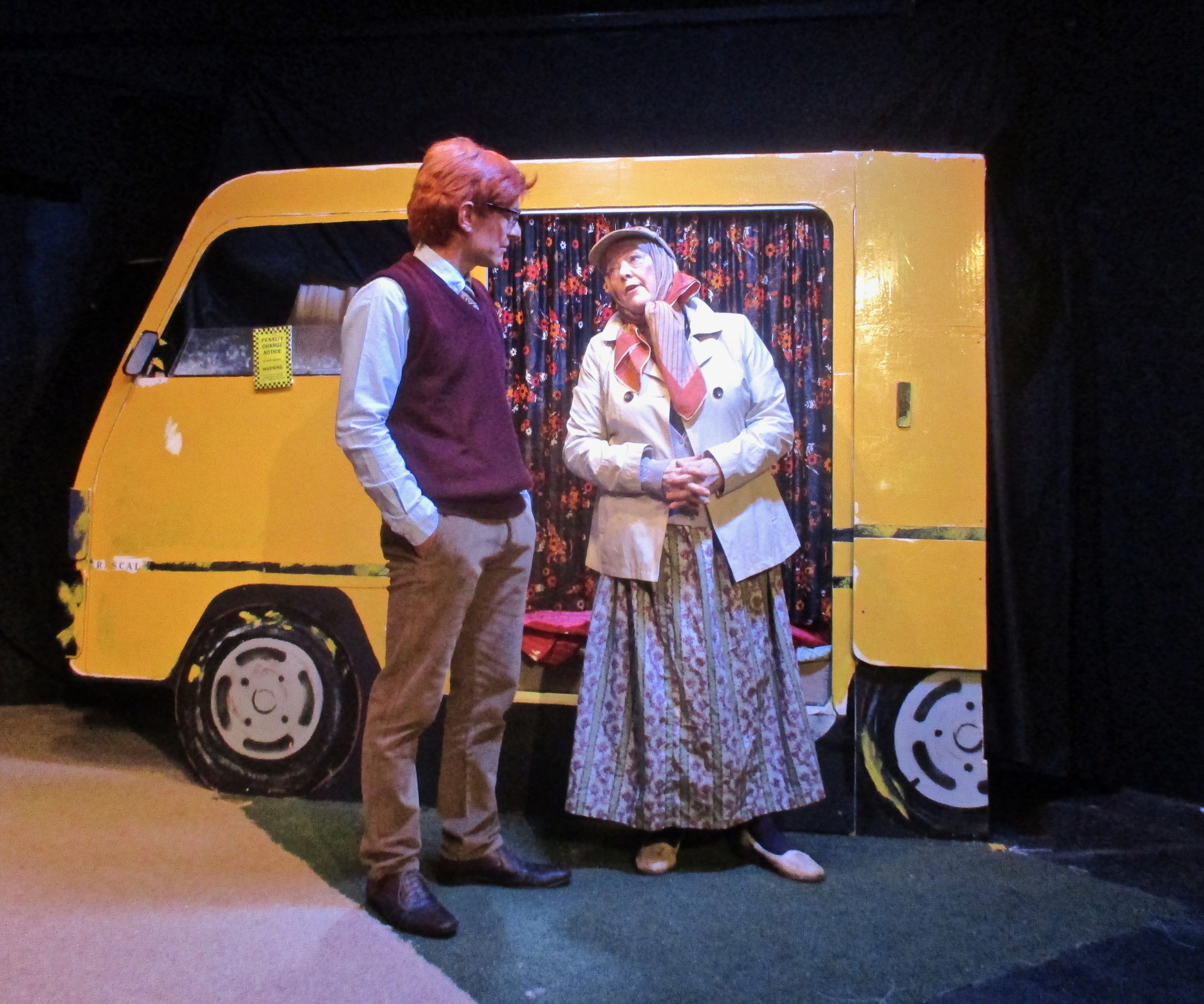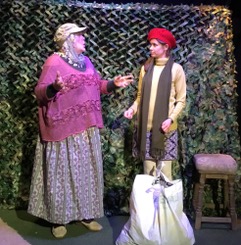 Thank you to all our sponsors. To have a look at the show programme, click here.
---
MURDER ON DELIVERY (a Murder Mystery evening)
In July the members of BATS were asked to put on two Murder Mystery evenings, in aid of two charities, the Macmillan Cancer Support and Pennard Carnival. The evening shows at Langland Bay Golf Club and Pennard Parish Hall were a new venture for BATS and a fantastic success. The highly engaging plot kept the audiences guessing at every twist and turn. Who was the murderer, what was the motive and how was the killing carried out? Teams within the audience had to write down their answers to solve the murder. With the assistance of a fantastic cast, a team from the audience was awarded the winning prize. The two performances raised £1,600 between them for their causes, so we can feel it was a job well done. Congratulations to our wonderful audiences and a murderous cast. 
---
Our March 2018 production was 'Are you being Served' by Jeremy Lloyd and David Croft and directed by Ian Evans.
Plenty of laughs from the audience and the cast took place during this hilarious stage version. The BATS cast were the motley crew of the Grace Brothers department store. The store are preparing for a sale of German goods and then they decide to depart for a staff holiday in Spain. Their holiday encounters involved everything from a Spanish crumpet, to randy revolutionaries with everything intact, but their modesty. Lovers of innuendo and British humour really enjoyed this hilarious play, with non-stop double entendres.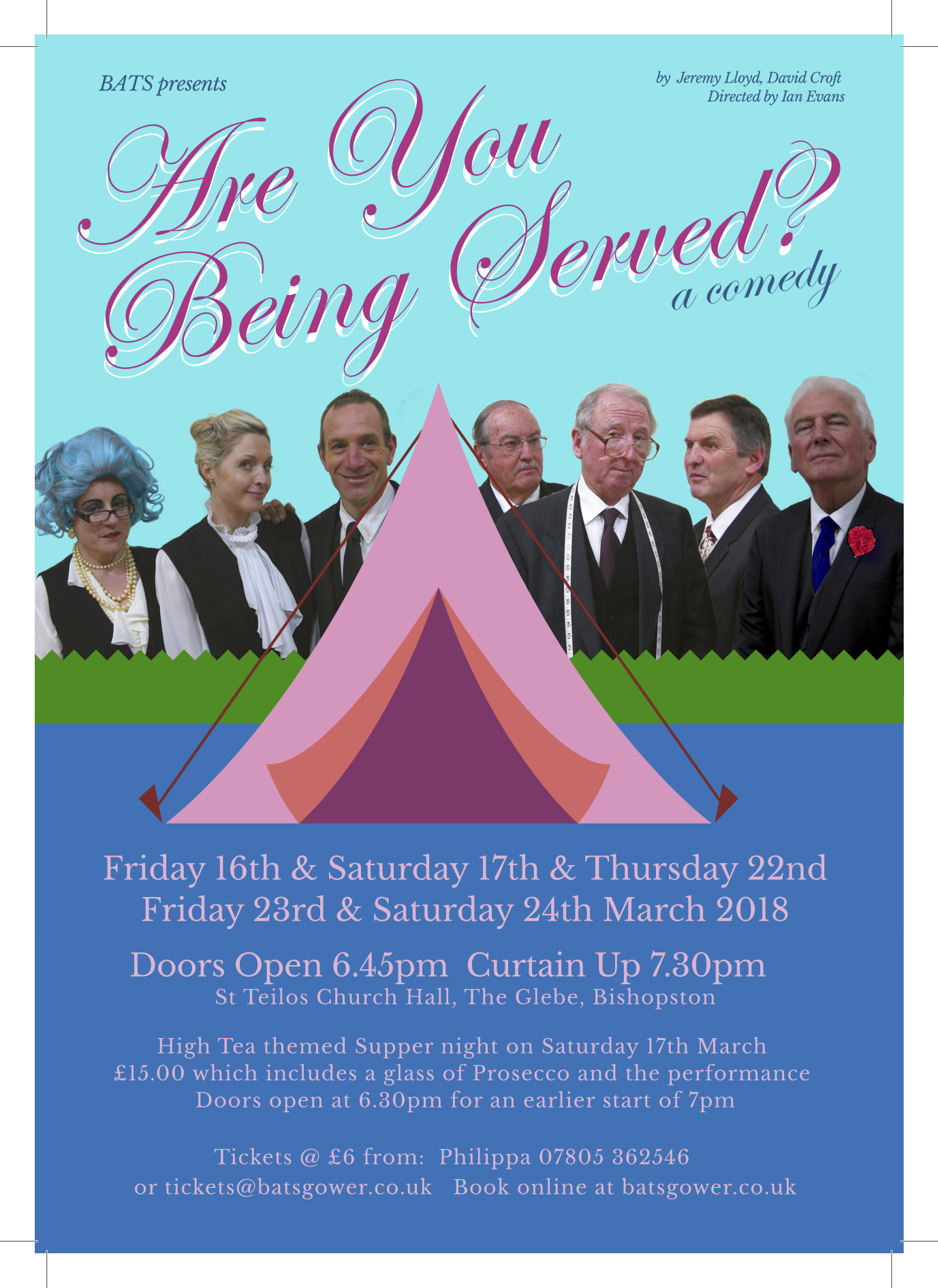 Reviews
A quick congratulatory message following another triumphant BATS production with all the ingredients of an epic trouser-dropping, knicker-showing, bedroom swapping Whitehall theatre farce. Further credit, it was served from a stage the size of a large kitchen table. The
true spirit theatre is alive & well, credit to all your team.
The performance on Thursday was absolutely brilliant and haven't laughed so much in a long time!

This is just to let you know that we thoroughly enjoyed this play.  We were appreciative of all the hard work that had gone into this production.  Well done to you all. Looking forward to the next one.
---

BATS provides assistance to a Derbyshire amateur production.
Last week the Hope Amateur Dramatic Independent Theatre (HADIT) presented a production of "Noises Off" by Michael Frayn. Some of you may be wondering about Hope's connection with BATS? A look at the following report in The Derbyshire Times will give the answer. Go to http://www.derbyshiretimes.co.uk/whats-on/theatre-and-comedy/review-feel-the-farce-in-noises-off-1-8517935
David and Carolyn Gawres had contacted BATS earlier this year to see if we could advice them on how to stage a play requiring numerous doors, a window, a balcony and staircase in a small village hall. And the set has to be turned 180º between Acts 1 and 2, and again between Acts 2 and 3! Barry gave them advice based our BATS production in 2006 and I helped by sending David the design of the set  and details of how we turned the set. Some of you may recognise the set shown in the image in the review.
I was very interested to see how HADIT got on so I went up to see their first night last Wednesday. HADIT are a similar sized group to BATS in a similar hall and I was made to feel very welcome. In the programme BATS were thanked "for their generous advice on producing the play on a small stage." Of course you may be thinking did HADIT give a better performance than BATS? All I can say is they gave an energetic performance which had the audience rocking with laughter and the curtain call was greeted with cheers and applause.
I have been in touch with David since my visit and he tells me another local group who saw their production were impressed and have contacted him as they want to talk to him about how he did the set!  Alan Bailey.
---
**NEW MEMBERS always welcome – come and act, assist back stage or with lighting, sound and costumes – Get in touch! **
The Bishopston Amateur Theatrical Society, or BATS, is an all-amateur group, open to anyone to join, whether to act, direct, work backstage or front-of-house.
There is a committee which presently consists of six people: the Chair, Vice-Chair, Treasurer, Secretary (who is also responsible for marketing), Social Secretary and Stage Manager. The Committee has overall responsibility for agreeing policies and parameters. The director has operational responsibility for delivering a play, and as such is responsible for choosing the play, cast, producer, stage manager, backstage team and front of house team.
Ever since its formation in 1967, BATS (STADS till 1999) has been providing the Gower village of Bishopston and the surrounding area with regular live theatrical entertainment.
This site has two aims:
To provide a record, free and accessible to all, of a major aspect of Bishopston and south Gower's recent cultural history;
To inspire local people to get involved with the group: we're always looking for new actors and people to help with costumes, make-up, props, ticket sales, refreshments, ideas and so on — no experience necessary! In fact, our continuing success depends on you — so have a good look round the site and then please

get in touch.